Alighiero Boetti, Gelitin, Felix Gonzalez-Torres, Jim Hodges, Nate Lowman, Luigi Ontani, Yan Pei-Ming, Matthew Wong, Dennis Kardon, Judith Linhares, Luigi Ghirri, Jean-Marie Appriou, Lenz Geerk, Parker Ito, Mario Nuzzi, Dominique Fung, Yoko Ono, Etel Adnan, Antonio Donghi, Skyler Chen

In Bloom

05.04.2022 - 23.04.2022

Pièce Unique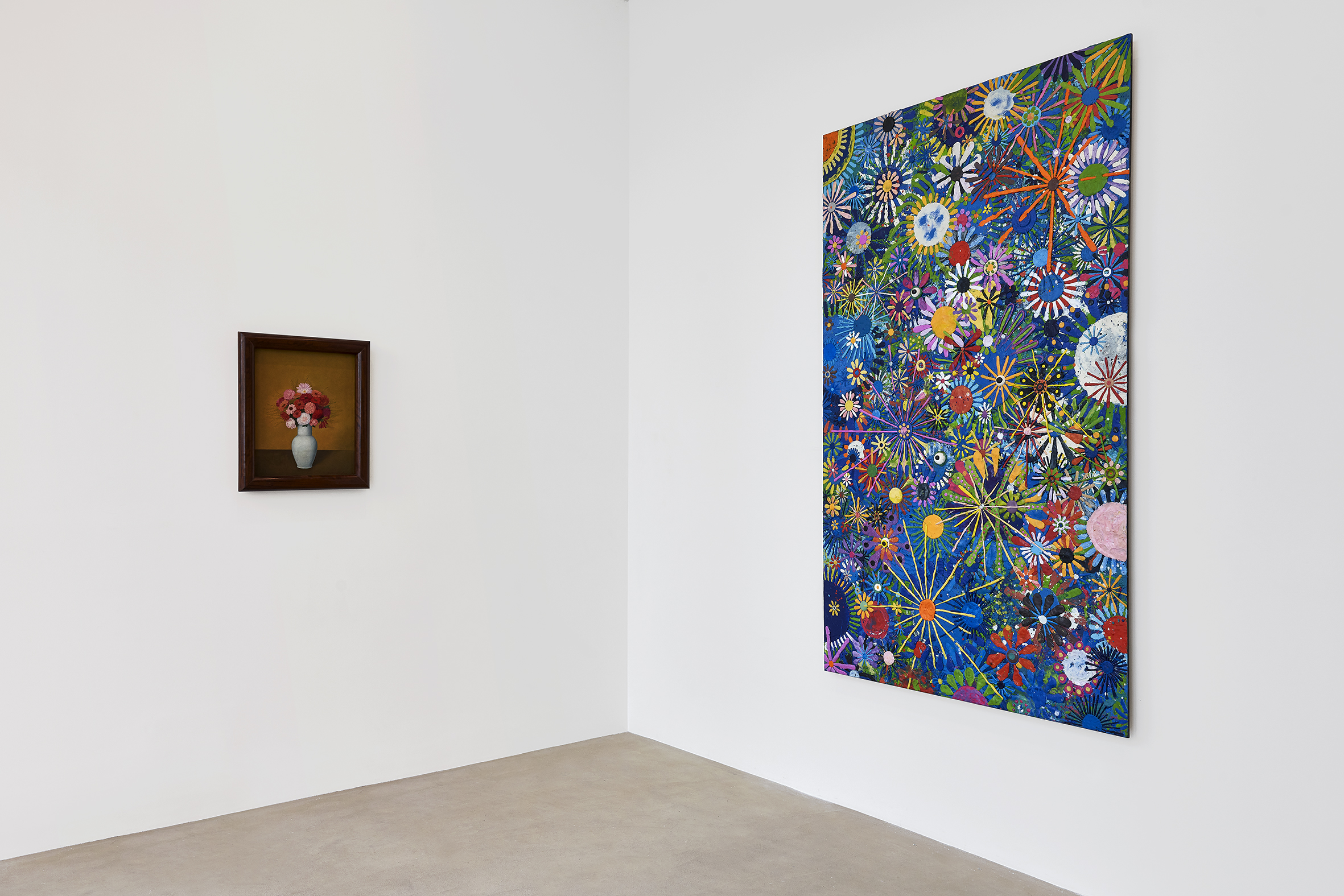 Experimenting with the gallery's single- work curatorial format, this exhibition is a 21-day sequence of artworks, presented as a new pairing each day. Like the chinks in a daisy chain, 21 artworks by 21 artists will bloom on the walls and within the gallery space one after the other, all connected by the same theme – the representation of nature, and more specifically flowers and skies.
Begun as an investigation into the representation of flowers in the baroque era and its current relevance, the breadth and wealth of representations of floral arrangements by artists of all generations and across mediums prompted us to expand the exhibition's scope.
Read more +
Read less -
1

of 19
Etel Adnan
UNTITLED, 2014
Oil on canvas
34.5 × 45 cm / 17 2/4 × 13 2/4 inches
John McAllister
ABOUNDS LAVISH LIKE TEEMING, 2022
Oil on canvas
127 × 99 cm / 50 × 39 inches
Gelitin
UNTITLED, 2022
Plasticine on wood
207 × 121 × 8 cm / 81 1/2 × 47 2/3 × 3 1/6 inches
Luigi Ontani
TAVOLOZZA DEI COLORI NOMINALI, 1969 - 2015
Polychrome ceramic and wood
149 × 66 × 48 cm / 58 2/3 × 26 × 19 inches
Skyler Chen
REMOVING THIS MASK, 2022
Oil on linen
120 × 100 cm / 47 1/4 × 39 3/8 inches
Antonio Donghi
FIORI, 1938
Oil on canvas
50 × 40 cm / 19 2/3 × 15 3/4 inches
Lenz Geerk
UNTITLED, 2021
Acrylic on canvas, Louis XIII frame in carved and gilded oakwood
18 × 12.7 cm / 7 1/8 × 5 inches 27.5 x 22 x 6.5 cm con cornice / 11 x 8 2/3 x 2 1/2 inches with frame
Dennis Kardon
ELIZABETH MURRAY'S TREE IN FEBRUARY, 1993
Oil on canvas
27.6 × 37.9 cm / 10 7/8 × 14 1/2 inches
Luigi Ghirri
SENZA TITOLO, 1974-2002
Photographic print
39.4 × 52 × 2.5 cm / 15 1/2 × 20 1/2 inches 36.6 x 49.1 cm senza cornice / 14.4 x 19.3 inches unframed
Jim Hodges
WHEN WHAT MATTERS MATTERS, (COME AND GO), 2022
None
61 × 46.4 × 4 cm / 24 1/4 × 18 1/4 × 1 1/2 inches
Matthew Wong
UNTITLED, 2015
Ink on rice paper
93.6 × 86.6 cm / 36 7/8 × 34 1/8 inches
Felix Gonzalez-Torres
"UNTITLED" (FOR WHITE COLUMNS), 1990
C-print jigsaw puzzle in plastic bag
19 × 24 cm / 7 1/2 × 9 1/2 inches
Nate Lowman
TBT, 2022
Oil and alkyd on canvas
152.4 × 101.6 × 5.7 cm / 60 × 40 × 2 1/4 inches
Judith Linhares
BLOOM, 2018
Oil on linen
66 × 56 cm / 26 × 22 inches
Dominique Fung
FLORAL GIFTS, 2022
Oil on canvas
152.4 × 137 cm / 60 × 54 inches
Parker Ito
OSCARS/HOBOX, 2020
Oil on canvas
203.2 × 152.4 cm / 80 × 60 inches
Jean-Marie Appriou
QUANTUM (MORNING'S NYMPHÉAS), 2022
Painted aluminium
93 × 99 × 9 cm / 39 2/3 × 36 × 3 2/3 inches
Yan Pei-Ming
BOUQUET DE ROSES, 2022
Oil on canvas
61 × 50 × 2 cm / 24 1/8 × 20 × 0 3/4 inches
Mario Nuzzi
VASO DI FIORI, '600
Oil on mirror
57 × 48 × 5 cm / 22 1/2 × 19 × 2 inches con cornice/with frame